electriQ 14 Place Fully Integrated Dishwasher EQDWINT60
14 Place Settings – Wash 154 pieces in one go
A++ Energy Efficiency Rating – Saves you money on your energy bills
49dB (A) Noise Level – Quiet dishwashing ideal for open plan homes
3h/6h/9h Start Timer Delay – Ideal for busy lifestyles
Height Adjustable Upper Basket – Allows you to make full use of the wash cabinet
4 Programmes – Intensive/ Eco/ 90mins/ Rapid
Half Load Option – Ideal for smaller loads
Dimensions: 815mm(H) x 598mm(W) x 550mm(D)
electriQ 14 Place Fully Integrated Dishwasher
EQDWINT60
Product Information
EFFORTLESS CLEANING
For many, the end of a meal usually means the beginning of a chore. The dreaded washing up to be precise. Well, those days are no more thanks to the electriQ EQDWINT60 fully integrated dishwasher.
This A++ dishwasher comes with the option of 4 programmes and a delayed start function to suit all your cleaning demands, while keeping your energy bills to a minimum! It can handle up to 14 place settings of dishes, glasses and cutlery in one wash – perfect for medium to large sized families.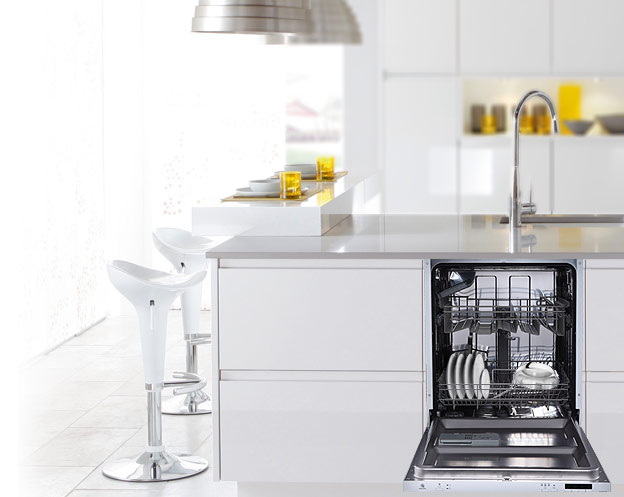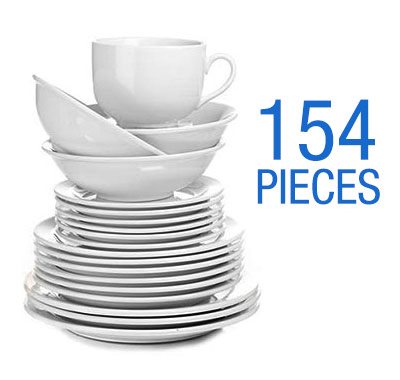 CLEVER DESIGN
This fully integrated dishwasher helps maintain a uniformed look in your fitted kitchen, blending in with your existing units once a matching door panel has been fitted. Despite its discreet nature, this dishwasher provides more than enough space for medium to large households.
It boasts a huge 14 place setting for all your pots, pans, plates and more – up to 154 pieces to be precise! For added flexibility, the height of the upper basket can be adjusted to make room for larger items in the bottom basket.
ENERGY EFFICIENT
This integrated dishwasher is one of the most efficent and affordable units on the market. It boasts an impressive A++ for energy efficiency that's 20% more efficient than 'A' rated models, which means you'll save money on your energy bills.
USEFUL FEATURES
To help you get the most out of every drop of water there's a choice of 4 pre-set programmes to suit different load types. There's an ECO Cycle to help keep your energy bills down, an Intensive Cycle which is mighty effective on stubborn, dried on food, and a Rapid Wash if you're in a hurry.
Plus, the Half Load wash option is perfect for washing smaller loads more effeciently. So rather than wait around for the dishwasher to fill, you can wash your few items in one basket to help save time, water and more importantly money.
There's even a time delay seetting of up to 9 hours that lets you programme the dishwasher to start at a later time to suit your schedule.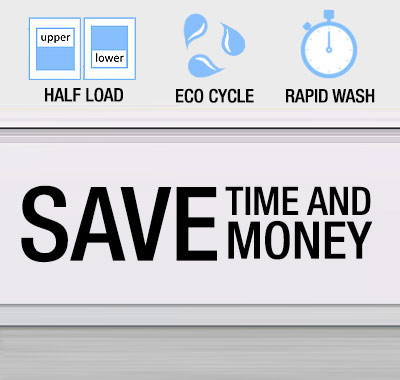 Technical specification
14 Place Settings – Wash 154 pieces in one go
A++ Energy Efficiency Rating – Saves you money on your energy bills
49dB (A) Noise Level – Quiet dishwashing ideal for open plan homes
3h/6h/9h Start Timer Delay – Ideal for busy lifestyles
Height Adjustable Upper Basket – Allows you to make full use of the wash cabinet
4 Programmes – Intensive/ Eco/ 90mins/ Rapid
Half Load Option – Ideal for smaller loads
Dimensions: 815mm(H) x 598mm(W) x 550mm(D)
Drying efficiency: A
Cleaning Efficiency: A
Salt and rinse aid indicator
Annual water consumption: 3080 Litres
Water consumption per cycle: 11 Litres
Annual energy consumption: 266 KWH
Energy consumption per cycle: 0.93KWH
Noise Level: 49 dB(A)
Max temperature reached: 70 degrees
Colour: White
Warranty: 1 year on site warranty
Dimensions
H x W x D: 815 x 598 x 550mm
Tech Spec
Key Information

Brand

electriQ

Fit Type

Fully Integrated

Colour

White

Place Settings

14

Warranty

1 year

Features

Start Timer Delay (Hrs)

9H

Salt Indicator Light

Rinse Aid Indicator Light

Upper Basket Adjustable

Cutlery Basket

Cutlery Tray

Smart (Wifi Connected)

Programmes

Drying Method

Residual heat drying

Number of Programmes

4

List of programmes

Intensive,Eco,Rapid,90Min

Performance

Noise Level (Decibels)

49dB

Energy efficiency rating

A++

Energy Consumption (Kilowatt Hour – Per Cycle)

0.93kWh

Energy Consumption (Kilowatt Hour – Per Annum)

266kWh

Water Consumption (Litres – Per Cycle)

11L

Water Consumption (Litres – Per Annum)

3080L

Washing Performance Rating

A

Drying performance rating

A

Installation

Own furniture door required

Water Supply

Cold Fill Only

Box Of Contents

Dishwasher, water supply hose, drainage pipe, user manual

Dimensions & Weight

Height

82cm

Width

60cm

Depth

55cm

Details

Product Codes

5056096001792, EQDWINT60, WQP12-7713Q